A Cacao Rose Mother's Day Soundbath
May 14, 2023
@
7:00 pm
–
8:30 pm
PDT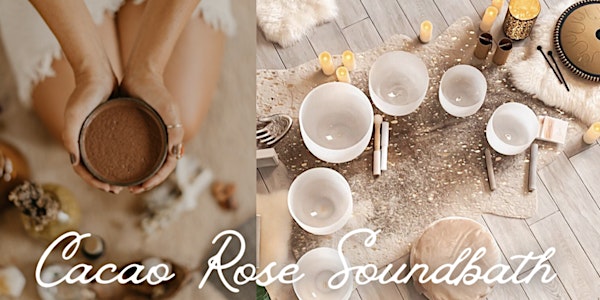 May 14
A Cacao Rose Mother's Day Soundbath
Be and Feel the love on this Special Mother's Day with a Heart Activating Rose Cacao Ceremony & Healing and Relaxing Love Soundbath with Maryzelle
Sunday, May 14 · 7 – 8:30 pm PDT
About this event
https://www.eventbrite.com/e/a-cacao-rose-mothers-day-soundbath-tickets-631182914087
**Feel free to Venmo @maryzelle-ungo to avoid Eventbrite fees & reserve your spot. Please Include your name & date of the event***
If you are a mother or know someone who is, you know the #1 thing all mothers want is relaxation, restoration, and rejuvenation. What better gift to give than the gift of relaxation and healing?
On this special day gift yourself and your loved one an evening of Relaxing, Healing, Cleansing, and Rejuvenating through Relaxing Ambiance, Heart Activating Cacao, & Healing Sounds.
Get cozy and restore the body on this special Mother's day. We will open your heart and as well as align your energy centers into relaxation, detoxification, and harmonization. Drinking ceremonial-grade cacao has been used for centuries by indigenous and spiritual communities to activate the heart to dive deeper into ourselves, our communities, and our deepest desires. Cacao as well increases blood flow, boost mood, calm the nervous system, and ground us in the present moment within ourselves and with others. Cacao is the most antioxidant-rich superfood in the world and has high levels of Theobromine, which enhances Mood & Focus. Theobroma translates in greek as, "food of the gods."- so along with Mayan Lineage, Greek Lineage as well believes in the true godlike power of this Medicine.
we will fully dive and indulge into the magic powers of this Ancestral Heart Opening Medicine of Cacao through Sacred Circle, breathwork to ground into our Mother Earth, Breathwork to ground into our Bodies, Cacao Praying, and Heart Activating Shares. To fully bask in the activation of this Medicine, we will step into our dreams with a healing soundbath. For our soundbath this evening, We will be cleansing our energy centers into alignment with specifically tuned healing frequencies from 7 different individual Chakra Crystal bowls, Tibetan bowls, Ceremonial Chinese Gongs, Earth Elemental Koshi Chimes, Indian Bells, and more. Within each Crystal Quartz& Tibetan bowl, there is attuning to the same frequencies of each chakra. These healing frequencies not only bring our chakras into alignment, balance & harmony, but also help bring calmness and ease tension in the physical, mental, energetic, and emotional bodies. Thus promoting your wellness and well-being in ways like an improvement in mood, sleep, focus, digestion, inner reflection, and much more. Expect to feel rejuvenated, cleared, and fully rested afterward.
♡All are worthy of Love, Light, & Health. All are welcome! ♡
Feel free to ask any questions at maryyzelle@gmail.com, and I hope to see you soon!
About your Healer: Maryzelle is a San Franciscan born Salvadorena-American who is passionate and committed to a life of music. Maryzelle's first love was the drums and from then on has played in numerous bands. She has toured throughout the country as a rock & roll, psychedelic, and ambient musician. She studied percussion, audio engineering, and sound therapy at Mills College (Oakland,CA), where she received her BA in Music in 2021. During her music studies, she also earned her 200 HR yoga teacher training certificate from Yoga Society of San Francisco. Her love of healing through music and movement has since continued to blossom, often working hands on as Mills College yoga assistant & Sound Healer. Along with banging the drums and evolving spiritually, she tapped into her divine goddess mission as a sound therapist. She has been hosting and creating sound-baths and sound-healing events in spaces across the Bay Area. She has hosted soundbaths for UC Berkeley, Mills College, Veterans, and much more. She is also the resident sound healer at one of the top Sound Healing Center's, "The Center SF." She utilizes a range of instruments and mediums including crystal quartz bowls, tibetan bowls, tuning forks, electric guitar, african drums, gongs, electronics, bells, divinity, and love. She has also worked with music promoters and local radio stations in San Francisco as a radio host, co-director and journalist. Explore her website and feel free to get in touch with any comments or questions.